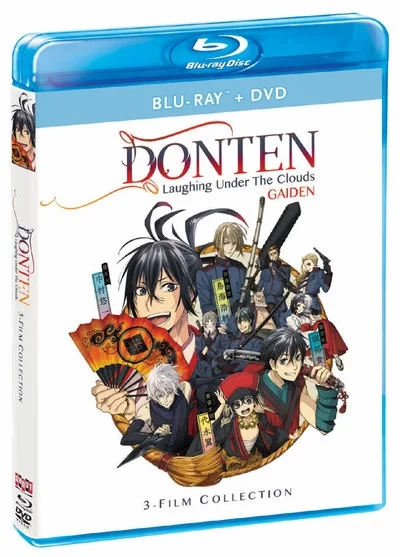 Eleven Arts je naznanil trilogijo anime filmov Donten ni Warau Gaiden po mangi avtorja Karakara Kemurija. Filmi bodo izšli na Blu-raying in DVD-jih 4. februarja 2020 v partnerstvu s Shout! Factoryjem. Izdaja pod imenom Donten: Laughing Under The Clouds - Gaiden: Three Film Collection bo vključevala japonski in angleški audio ter angleške podnapise.

Podjetji sta projekt naznanila oktobra 2018.

Eleven Arts anime studio je pred tem naznanil distribucijsko partnerstvo avgusta 2018 s Right Stuf za trilogijo filmov Laughing Under the Clouds: Gaiden in dva celovečerca Haikara-San: Here Comes Miss Modern. Shout! Factory bo tako prevzel ostale naslove.

Laughing Under the Clouds Gaiden: One Year After the Battle, prvi film, je v japonske kinematografe zavil decembra 2017. Drugi film, Laughing Under the Clouds Gaiden: The Tragedy of Fuuma Ninja Tribe, je izšel junija 2018, tretji film, Laughing Under the Clouds Gaiden: Conspiracy of the Military, mu je na Japonskem sledil septembra.

Wakano Tetsuya (epizodni režiser za Magi, The Rolling Girls, Danbōru Senki Wars) je režiral trilogijo pri Wit Studiu. Umehara Eiji (Grimoire of Zero, Re:ZERO -Starting Life in Another World-, Lagrange - The Flower of Rin-ne) je skrbel za kompozicijo serije in Tanaka Kii (M3 the dark metal, KONOSUBA - God's blessing on this wonderful world! 2) je bil načrtovalec likov in izvršni režiser animacije.